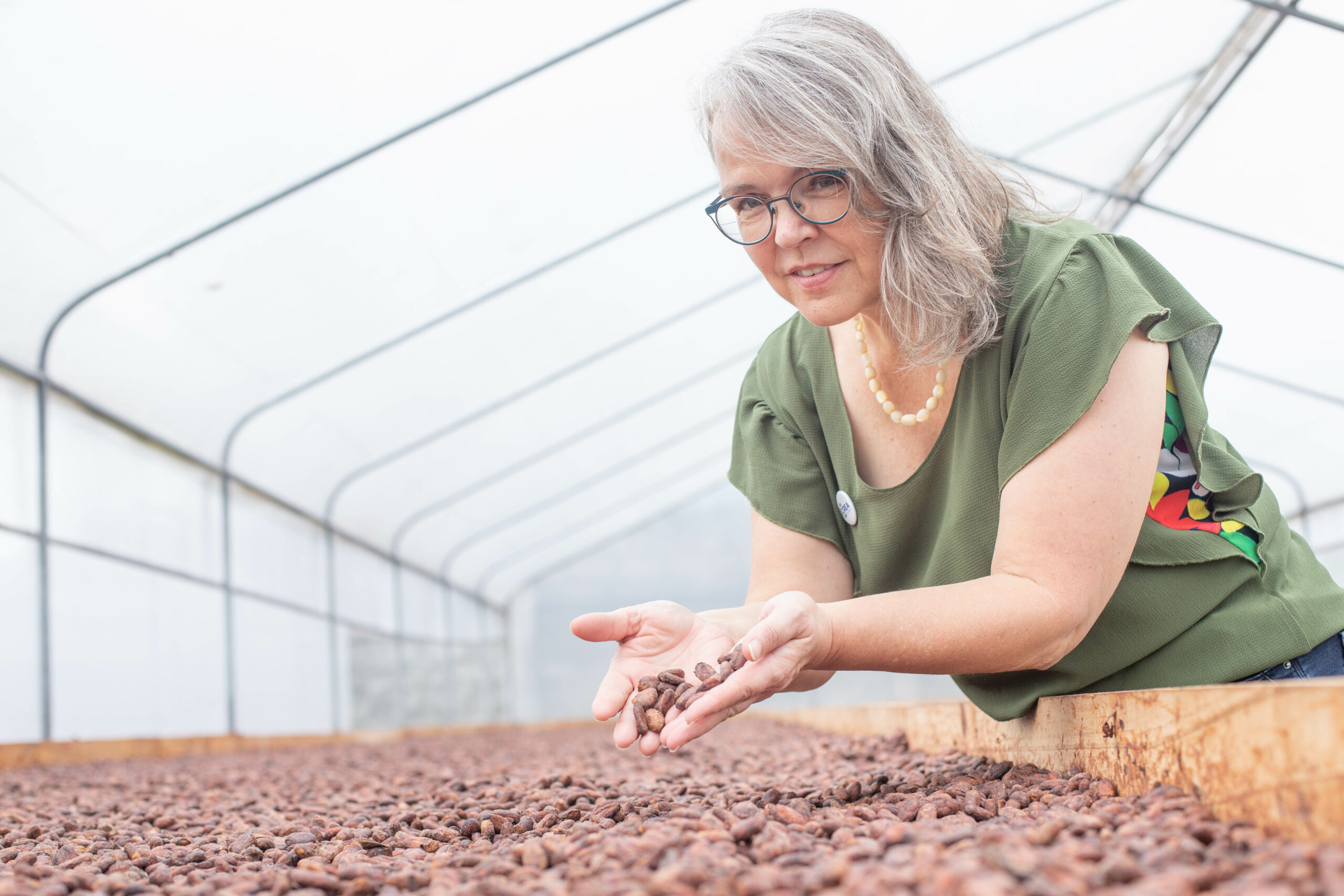 In our conversation with Johanna Renckens de Rikolto, coordinator of the EU co-financed Road to the Reactivation of Agrifood Ecuador (CREA, for its acronym in Spanish) project, she explains why profitability is a determining factor when evaluating the implications of regulating Cd levels in cocoa.
The initiative seeks to promote strategies to strengthen and improve competitiveness, innovation and insertion in the European market of Ecuadorian MSMEs and producer organizations, in order to generate income and employment.
The project is implemented by the international organization Rikolto, with more than 40 years of experience in transforming value chains, strengthening small-scale farmers' organizations and food chain actors in Africa, Asia, Europe and Latin America.
CREA, which is implemented in consortium by ANFAB, COSPE, the Escuela Politécnica del Litoral and the University of Louvain, prioritizes eight chains: avocado, banana, cacao, coffee, guava, guayusa, green plantain and quinoa.
What do you consider to be the effects that the European Union regulation 488/2014, which establishes the maximum allowable limits of Cadmium in chocolates, has had on the cocoa and chocolate chain in Ecuador.
One of the big challenges so far has been the cost vs. benefit: how much it costs to make the adaptations suggested by the regulation and if it is profitable for the producer.
On the export side, we do feel that, at the beginning, there was a drop in exports to Europe. However, according to what experts explain, it was also because more is being exported to Indonesia. But regulations have made it difficult to export cocoa to Europe.
We want to see if these regulations (cocoa without deforestation, reduction of Cd) are viable because if the cost to the producer becomes too high and the price they receive from EU buyers does not compensate, it is not really sustainable in the long run. The cost of regulations and new market requirements have to be distributed throughout the chain. This is one of the strongest problems we are going to face.
Where do you feel was the greatest impact?
The biggest impact was in Esmeraldas, Ecuador: there were fewer sales to companies that sell in the European Union. Apparently, this effect is decreasing because most organizations and companies know how to mix their cocoa well. However, what is still a problem is the cocoa of origin, and there is an impact there.
We have seen that, progressively, more and more chocolatiers in Ecuador who sell in Europe are choosing areas with low levels of Cd and decreasing their purchases in areas where there is more.
What should be done to mitigate the impact?
It is necessary to work with the private sector so that the cost and profit are well distributed. For example, at Rikolto in Belgium we are working on a 'Superlist', which is a list of the most important retailers in the country, and serves to verify how they are doing in terms of sustainability and how they are working in the south/north chains. . There you can see which chains and retailers can make a change in your business.
This debate is a little more political and global, but it is very important to give it to verify the factors related to the Cd and new regulations for cacao without deforestation.
What to say to the cocoa farmers who continue with this bet?
It is very important that producers are clear that it is not only a marketing issue, but also a health one. Cd levels can affect consumers, so it is very important to sell CD-free products, which have no impact on health, apart from meeting the requirements for access to the European market.
And to the researchers?
For us it is very important to focus on issues such as cost vs. benefit. That is our priority. Create practices that are easy to apply for small producers. If it is a very high cost, it will not be done and the subsidies cannot be maintained forever.
You have to get out of the laboratory and apply it in daily practice and in more viable ways for small producers. It is also important to involve the public sector more to achieve effective policies that support small producers and promote a proactive role for the private sector.