We seek:
to strengthen the capacity of relevant actors in cocoa value chains and innovation systems develop and implement low cadmium and climate-relevant production practices and technologies and support scaling.
We believe that:
Farmers do not operate in isolation but are embedded in social-ecological system
Agricultural innovations require that scientific and technological advances are taken up by farmers and mobilize public and private sector actors to achieve impact
Engagement with stakeholders in all processes is important to co-develop context-relevant production systems and practices, while creating an enabling environment for their adoption and scaling
Linkages between agriculture innovation systems at national and local level, and in the case of cocoa at the international / global level need to be taken into account.
The adaptive approach for ClimaLoCa involves multi-stakeholder platforms that combine advances from science with stakeholders' knowledge and experience and preferences, including the envisaged final beneficiaries: the farmers.
The stakeholder platforms also engage with the development, evaluation and dissemination of viable mitigation options and scaling strategies taking into account factors that determine scope for adoption.
How we induce expected outcomes and impacts:
Causal interrelationships from the project's activities to outputs, outcomes and impacts.
Trans-disciplinary approach, designed to integrate interventions that leverage positive changes in human actors' knowledge, skills and attitude, which are essential for the sustainable management of agricultural production and food systems.
Key change mechanisms, actors and assumptions and risks associated with each step in the impact pathway are provided.
The innovations require engagement of diverse end users, to co-develop context-relevant production systems and practices based on strong, interdisciplinary science, while creating an enabling environment for their adoption and scaling. Coordinated activities to be implemented in selected cocoa producing areas in the three countries will generate the following outputs, organized into 4 different work packages: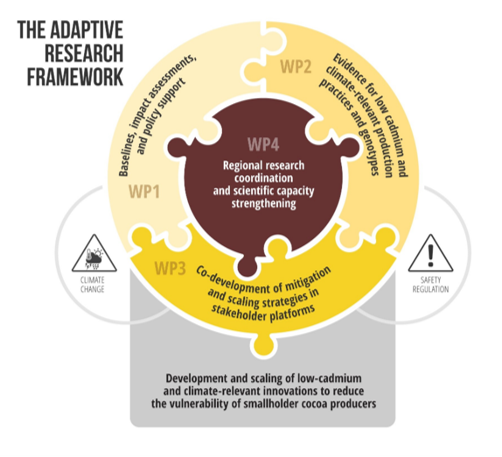 METHODS OF IMPLEMENTATION
The ambition for Clima-LoCa is to develop a coherent research network that will bring together key expertise and experiences from the region and EU-MS in order to:
1. Strengthen and add value to existing knowledge, data and field trials, through integration and synthesis 
2. Implement joint data collection and field experiments to address important knowledge gaps identified during various stakeholder consultations
3. Deeply engage with stakeholders to convert the knowledge developed into concrete products that support adoption and scaling; and
4. Create opportunities for scientific and laboratory capacity building and exchange.
To meet the ambition described above, the project implementation will be based on the following general principles:
Establish a network of multi-locational research sites, using standardized research protocols
Centralized data storage and analysis
Integration of NARS in all project activities
Leveraging project funds to create opportunities for hands-on training and exchange
Strong stakeholder involvement
Enhance evidence-based information to guide policy-decisions at local, national and regional level
Support from private sector to enhance impact and relevance
Open access policy